Best Converting Countries For Adult Cam Offers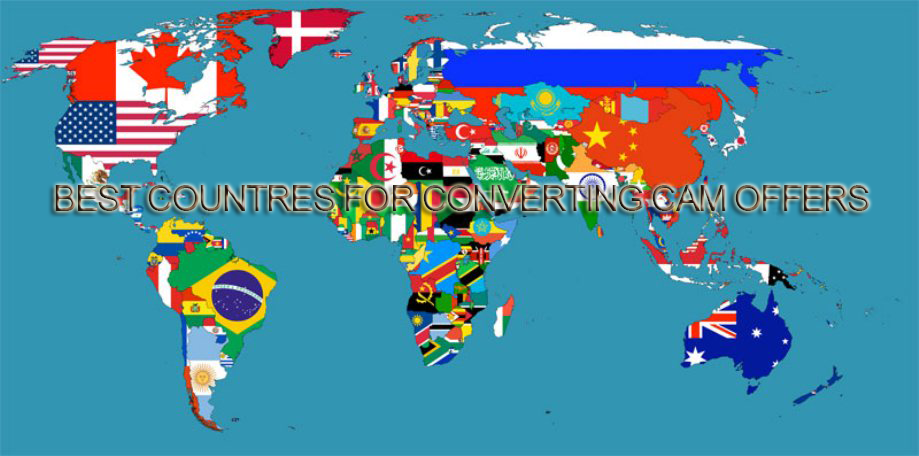 As 2015 comes to an end, and 2016 starts you will be wanting to revise your strategies for driving traffic to Adult Cam Offers. In this post I will be revealing what countries converted the best for me in 2015 and this trend will keep going into 2016.
USA – 76.30%

Not a surprise to see that most of my sales come from USA. I try to target USA as much as possible for this reason. One of my goals in 2016 is to try and increase the amount of traffic I get from the USA. Currently the figures for two of my sites sit at 22% and 13% respectively but still USA traffic is my #1 source.

France – 5.92%

Less than 2% of my overall traffic is from France however the French seem to love my sites. A change I made in 2015 was to make sure my whitelabels had properly translated titles and descriptions for French users. Building niche blogs and targeting French users is one of my goals for 2016. Also working with my affiliate managers and sites to try bring a greater level of support to the French users of sites because this helps with conversions.

Other – 5.30%

The stats I get aren't 100% conclusive, and not all countries are listed. For now we will leave this as is and if I manage to get better visibility I will update this post.

Portugal – 3.74%

Another goal I have set for 2016 is to target Portuguese traffic, as of writing this post I do not have any of my sites translated to Portuguese nor have I tried to bring in more traffic from this source.

Netherlands – 2.49%

I did have a dutch blog however keeping it updated proved a challenge for me so I sold it on, However I still seem to get a few direct hits from this source. I know a lot of european webmasters who speak Dutch however always go for USA traffic, you should always use all languages available to you in order to increase your revenue.

Colombia – 1.87%

Now for various reasons I get a LOT of Colombian traffic, which to be fair is mostly useless. There are a lot of challenges in order to convert this type of traffic. For starters, most of the Colombian models who work on cam sites actually BLOCK Colombia, for privacy reasons. You have to correctly check and only promote models who allow member access – and let your traffic know they have to sign up in order to see the model. One of my predictions for 2016 is that a lot more of this type of traffic will become a good target for cam offers, you just have to warm them up to the offers.
The rest of the countries, which account for 1% of less of my sales are the following: Germany, United Kingdom, Sweden, Spain, Canada, Puerto Rico, Argentina.
What countries should you target for cam offers in 2016?
From my experience, you should always be trying to get a piece of the pie from USA. Every site you own should be in English. After this, you should be targeting your secondary language. In my case this is Spanish. The top two Latin American countries you should target in 2016 are the following:
Colombia
As shown above, this traffic source has started to convert in 2015 and will convert even more in 2016. Make sure to have your offers as red hot as possible to try lure in possible conversions.
Venezuela
Whilst I am not currently receiving sales from Venezuela I have multiple sources which indicate this will be a good bet for 2016. As this is a country which is not affected by Colombian Models privacy settings, you can easily send this traffic to the correct niche without having to worry about models blocking the traffic.
Another Latin American country to always keep on your radar is Argentina, but it doesn't quite make the top two.
For a better idea of how much money you can earn with your targeted traffic from different countries I would use this Income Calculator:
According to AWEmpire here is an estimate of possible earnings in case you send daily 1000 unique clicks to one of thier flagship products monthly to the following countries:

Again thanks to AWE for this image and valuable data. A few more stats which will give you some food for thought – Top 10 Best Paying Countries for Cam Offers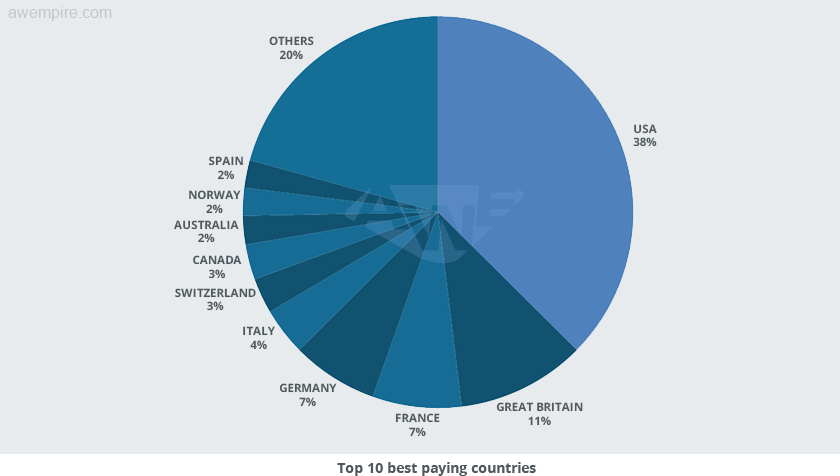 And Finally, the top converting countries for Cam offers in 2016 and going forward:
If you are not already making money with AWEmpire I suggest you go sign up now and earn yourself a $150 bonus! Remember that some offers convert better than others so be sure to check out my list of Adult CPA networks and give them a try.